Area Rug Construction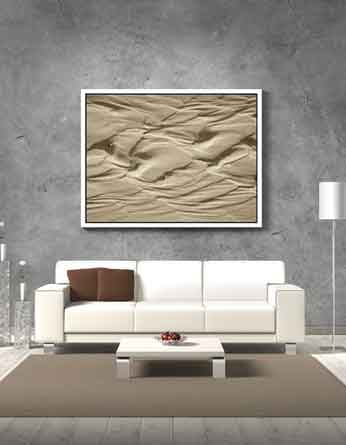 A review of how area rugs are made.
While home consists of what's under your roof, don't forget what's under your feet. Floor coverings have a huge influence on your home and home life. They impact interior beauty, design, décor, comfort, livability and upkeep, thus floor coverings can make, or break, a home.
Speaking of make, in this section we explain how area rugs are made. This information can be very advantageous because it enables you to understand the product's materials and how they come together in the beginning.
Being familiar with area rug construction also helps you understand and evaluate performance aspects: why certain rugs wear better and longer.
Plus, understanding how area rugs are created help you better determine rug value and keep you inside the borders of your budget.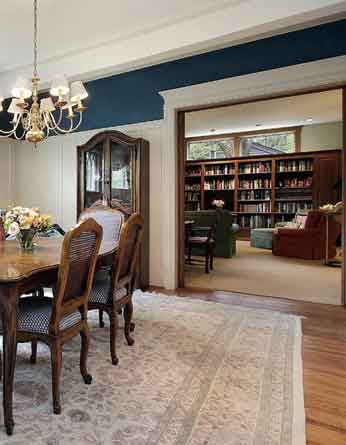 Decision #1: machine or man.
Modern technology enables area rugs to be mass-produced in a wide spectrum of design, color and sizes, but there are differences between machine made and handmade rugs. Differences you should be aware of.
Machine made rugs are less expensive and are not considered to be investments.
With factory made rugs you'll have flexibility and variety; you can find the same design, or one close to it, in different sizes and different colors from different manufacturers.
Woven rugs are created on automated weaving looms in which multiple colors of yarn are sewn into a backing material. The rugs' elaborate designs are created by the placement of the different colors of yarn.
Handmade (also called hand knotted) rugs are custom made, one-of-a-kind designs that incorporate creative (often brilliant) uses of color.
With handmade rugs, even if the overall same pattern is created, there will still be unique details and intricacies due to the village, city or country of the creator.
Plus, handmade rugs are often created with natural dyes that provide longevity to the colors. These rugs offer you built-in lasting power.
The bottom line is the bottom line.
Handmade rugs are investments (often very valuable investments) that last a lifetime and then some.
Many become precious, revered heirlooms, passed down with pride and honor from one generation to the next.
All reasons why we created this next section, devoted to the creation of handmade, hand knotted rugs.
Three elements tie any handmade rug together: weave, knot and dyes.
1. WEAVE
Weave refers to the technique used in making handmade rugs.
There are three major techniques: pile weave, flat weave and hand-tufted.
Pile Weave: here, knots rule.
Pile weave or knotted weave refers to the method of weaving used in most rugs.
In this technique the rug is woven by a creation of knots.
A short piece of yarn is tied around two neighboring warp strands creating a knot on the surface of the rug.
After each row of knots is created, one or more strands of weft are passed through a complete set of warp strands.
Then the knots and the weft strands are beaten with a comb securing the knots in place.
Even though all pile rugs are woven with knots, different weaving groups use different types of knots.
The weaving process begins at the bottom of the loom and moves upward as the horizontal rows of knots and wefts are added.
Every single knot is tied by hand. A rug can consist of 25 to over 1000 knots per square inch.
A skillful weaver is able to tie a knot in about ten seconds, meaning 6 knots per minute or 360 knots per hour.
That means it would take a skillful weaver 6,480 hours to weave a 9x12-foot rug with a density of 150 knots per square inch.
If we divide this number by 8-hour working days, it means it would take one weaver 810 days (approximately two and a half years) to weave such a rug.
However, a rug as large as a 9x12 is usually woven in a workshop or master workshop setting by two or three weavers, so the above time can be reduced by half or third.
But can you imagine the time and labor if the knot density is even higher!
Handmade rugs are beautiful, functional and exceptional works of art created with great patience. And deep pride.
Flat Weave: unique beauty and knot free.
Flat weave refers to a technique of weaving where no knots are used in the weave.
The warp strands are used as the foundation and the weft strands are used as both part of the foundation and in creating the patterns.
The weft strands are simply passed (woven) through the warp strands.
These weavings are called flat weaves since no knots are used in the weaving process and the surface looks flat.
These rugs have a special beauty, quality and personality all their own.
Search for one that matches yours.
Hand Tufted: glue, guns and good value.
A hand-tufted rug is created without tying knots into the foundation, but rather by pushing wool or acrylic yarn through a primary backing, creating a "tuft".
Then, using a latex glue to hold the tufts in place, a rug maker will apply a secondary foundation, or "scrim", which is then covered by a third and final cloth backing to protect your floor. Proof that satisfying customers is global.
The final step involves shearing the tops of the looped tufts to create the pile.
The height of the pile is determined by how much yarn is cut off, and how far the initial loop was pushed up.
Hand-tufted rug makers use a tool called a "tufting gun" which holds the yarn to push through the primary backing that is stretched in place on a frame.
This method of rug making is less time consuming than hand-tying each knot, but still requires a high level of craftsmanship to efficiently and accurately portray the intricate designs.
The design is determined by transferring a pattern onto the primary foundation, this acts as a template showing the craftsman where to push through each colored tuft.
Hand-tufted rugs can be made faster than hand-knotted rugs, therefore they are generally less expensive than their hand-knotted counterparts.
The tufting method creates a highly durable and beautifully accurate handmade rug that will weather foot traffic for years to come.
If traffic is a concern of yours, this may be your weave of choice.
2. KNOT
Most handmade rugs are woven by tying knots on the warp strands.
The type of knot used in weaving and the knot density are discussed next.
The two predominant types of knots are asymmetrical and symmetrical.
Asymmetrical (Persian or Senneh) Knot: for a fine design.
The asymmetrical knot is used in Iran, India, Turkey, Egypt and China.
To form this knot, yarn is wrapped around one warp strand and then passed under the neighboring warp strand and brought back to the surface.
With this type of knot a finer weave is created.
Symmetrical (Turkish or Ghiorde) Knot: the style of symmetry.
The symmetrical knot is used in Turkey, the Caucasus and Iran by Turkish and Kurdish tribes.
To form this knot, yarn is passed over two neighboring warp strands.
Each end of the yarn is then wrapped behind one warp and brought back to the surface in the middle of the two warps, forming a beautiful symmetry.
If your decorating style is equal, even and matched, this is your knot.
Knot Density: one way to indicate value.
Knot density refers to the number of knots per square inchor square decimeter in a handmade rug.
Knot density is measured in the imperial system in square inches and in the metric system in square decimeters.
Every decimeter is equal to 10 centimeters and approximately 4 inches.
Knot density is measured by counting the number of knots per linear inch or decimeter along the warp and weft (visible on the backside of the rug) and multiplying the two numbers.
Since the two numbers are usually the same, one number can simply be squared.
KPSI, (knots per square inch), is sometimes used to indicate value.
The higher the number of knots per square inch, the higher the quality, and thus the price, of the rug.
3. DYES
The process of changing the natural color of materials such as wool, silk and cotton is called dyeing.
There are two types of dyes: natural dyes and synthetic dyes.
Natural Dyes: the result of plants, animals and minerals.
Until the late nineteenth century only natural dyes were used for coloring weaving yarns.
Natural dyes include plant dyes, animal dyes and mineral dyes.
Plant dyes come from roots, flowers, leaves, fruit, and the bark of plants.
Woad, a plant of the mustard family, and indigo, a bush from the pea family, are used for blue dye.
Yellow is produced from saffron, safflower, sumac, turmeric, onionskin, rhubarb, weld, and fustic.
Madder has been used since ancient times for reds. Redwood and Brazilwood are also used for reds.
Browns and blacks come from catechu dye, oak bark, oak galls, acorn husks, tea, and walnut husks.
Henna is used for orange.
For green, indigo, over-dyed with any of a variety of yellow dyes, is used.
Some animal sources of dyes include insects such as Cochineal, found on cacti in Mexico; Lac, a wild version of Cochineal, found in India and Iran; and Kermes, found on Oak trees near the Mediterranean.
All three produce a range of reds. Kermes was used in Europe, and Lac in Egypt and Persia until Cochineal, the cheapest of all three, gradually took their place.
Kermes, the most ancient of all three, has been used even before the 16th century.
Mineral dyes come from ocher (yellow, brown, red), limestone or lime (white), manganese (black), cinnabar and lead oxide (red), azurite and lapis lazuli (blue), and malachite (green).
Dyers are able to get a variety of colors and shades from the same source depending on the type of material used, the characteristic of local water, and the use of different mordants.
Today, natural dyes are still used in some traditional dye-houses and villages where natural sources are readily accessible.
Synthetic Dyes: the market demands, chemistry responds.
In the mid-nineteenth century, as the demand for handmade rugs increased in the West, their production increased in the East.
The need for easy-to-use and less expensive dyes with a wider range of colors caused the development of synthetic dyes in Europe and especially in Germany.
Synthetic dyes were soon imported to Persia (Iran), Anatolia (Turkey) and other Eastern countries.
The first synthetic dye, Fuchsine (a magenta aniline), was developed in the 1850s.
Shortly after, other synthetic aniline dyes followed. Synthetic aniline dyes made from coal tar were brilliant, inexpensive, and easy to use; however, they faded rapidly with exposure to light and water.
In 1903 Nasser-e-Din Shah, the Persian king of Qajar Dynasty, banned the use of aniline dyes in Persia (Iran).
Persian weavers discontinued the use of synthetic dyes until the modern synthetic chrome dyes were developed in the years between the First and Second World Wars.
Chrome dyes are colorfast, they retain their intensity despite exposure to light and water, and are produced in an infinite variety of attractive colors and shades.
Today, mostly chrome synthetic dyes are used for coloring weaving yarns.
Natural dyes are used in places where they are easily obtainable.
But one thing is certain. If you buy an area rug made from natural or synthetic dyes, you can be confident that it will only improve with time.
In fact, even rugs made with aniline dyes in the late 19th century are valuable today simply because of their age.
That's a brief explanation of how area rugs are made.
We hope that the information we've featured here leads you to a better understanding of how this beautiful and versatile product is created, and helps you be a better, smarter, more educated shopper.