How To Clean Your Hardwood Floor
Tips on how to maintain your hardwood floors.
To most people, their home is life's greatest possession and a large source of pride and joy.
Which is why they devote so much time and energy to its upkeep. Beautiful, charming, inviting homes are the wonderful result.
Floor coverings are a major part of a home.
So read on and learn the many ways you can maintain your hardwood investment – your home investment and source of pride -- today and tomorrow.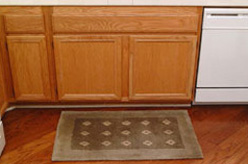 Fight dirt right where it enters.
Place walk off mats or area rugs at each entryway to collect dirt and grit that might be tracked in.
These tiny particles act like sandpaper and will scratch your floor.
Be sure to avoid using rubber-backed or non-ventilated mats or rugs as they can damage your floor.
Instead use mats or rugs made especially for hardwood floors and remember to shake them out regularly.
In addition to entryways, remember to place mats in any areas where water may be splashed, such as near a kitchen sink.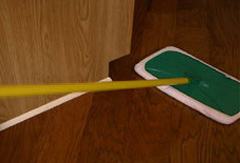 These tools can be floor savers.
Buy a good quality broom and sweep your new floor regularly to pick up grains of dirt, dust and other particles.
A vacuum cleaner, without a beater bar, can be helpful in between planks and other hard to reach areas. Once dirt and grease are gone, buffing can help restore the luster of your hardwood floor.
Our cleaning suggestions.
Cleaning techniques vary depending on the installation and finish of your hardwood floor.
For "Finish in Place" hardwood floors, we recommend using an 8"x14" terrycloth mop with a rotating head that makes cleaning corners, under cabinets and along base boards an easy task.
Spray a professional wood floor cleaning product recommended by us to safely remove tough stains and spills without dulling the finish of your floor.
Manufacturers of "Pre-finished" hardwood floors recommend their own specific products designed for their floors routine maintenance. Be sure to check with us as well about these cleaners.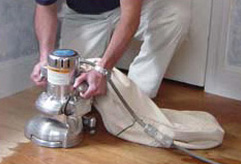 Keep in mind these dos and don'ts.
All floors with a urethane finish should never be waxed and require cleaners that won't leave a film or residue.
A hardwood floor cleaner is useful in removing occasional scuffs or heel marks. Merely spray some cleaner on a cloth and lightly rub the stained area. Sticky spots can be cleaned with a damp towel or sponge.
Do not use ammonia cleaners or oil soaps on a wood floor, as they will dull the finish and performance of your floor. These products will also affect the ability to recoat your floor later.
Since wood naturally expands when it is wet, never wet mop or use excessive water to clean your floor. Large amounts of water can cause the wood to swell and may cause your floor to crack or splinter.
Being a natural product, hardwood will expand and contract due to moisture level changes. Minimize water exposure to hardwood floors and clean up spills as soon as they happen.
For deeper cleaning, please note the following: If your floor is showing excessive wear beyond normal cleaning you may want to consider screening and recoating.
Screening is the process used to abrade the polyurethane finish that is currently on the floor. Then, fresh coats of urethane are applied. Screening and recoating will rejuvenate and prolong the life of your hardwood floor.
If the damage to the floor is severe and has gone through the stain of the boards down to the bare wood, you may be able to sand and refinish. This is mostly an option for solid wood flooring.
This should only be done if a screening and recoating does not solve the problem. This is an extensive process where the floor is sanded down to the bare wood, re-stained and then refinished. If the damage is only in a small area you may want to see if replacement boards are available to alleviate having to refinish an entire area.
Be sure to hire an experienced professional when having any work done on your hardwood floor. We suggest you contact us for advice.
Protect your hardwood floor against tomorrow, sunshine and activity.
All hardwood floors will fade, darken or change shades over time. Exposure to sunlight will greatly increase this process.
Window treatments are recommended, as well as rotating area rugs and furniture regularly to allow floors to age evenly from UV exposure.
Cover furniture and table legs with protectors to guard your floor against damage. Take care when moving heavy objects across your floor to avoid scuffing.
Stiletto heels can cause dents and scratches that are not covered by your warranty. Love your pet but regularly trim their nails or claws to avoid scratches on the hardwood floor. The point here is to be cautious of sharp objects that may scratch or damage the floor.
Consistent upkeep and periodic professional maintenance will keep your hardwood flooring beautiful, inviting and durable for years to come.
Depend on us to deliver complete, dedicated customer service during your shopping experience and outstanding, professional installation later.
We hope that the information we've provided here leads you to a clearer understanding of how to maintain hardwood flooring.