Before Buying Hardwood
Learn everything there is to know about hardwood flooring before you buy.
Buying new flooring for your home is an investment in time and finances. So our advice is to learn all you can about hardwood before making a purchase.
We've told customers in our store and we'll tell you here, any floor covering in your home impacts interior beauty, design, décor, comfort, livability and upkeep. It's a truth of housing: floor coverings can make, or break, a home.
Choosing the best hardwood flooring is really about knowing the right combination of characteristics, aesthetics, performance and budget to best meet the needs of your lifestyle.
You want to shop smart. That way your final decision not only creates a warm, inviting environment in your living spaces but also delivers what hardwood floors are noted for: adding value to your home.
Let's begin with Pre-finished hardwood.
A work of natural art, the elegance of a pre-finished hardwood floor adds beauty and value to any home, easy care and durability to any lifestyle.
Each species of wood has its own unique characteristics and the conditions of nature that the wood matured in make each floor exceptional and individual.
Pre-finished hardwood floors are sanded, screened and stained in highly efficient manufacturing plants.
Several coats of urethane are sprayed on the boards and then they are UV dried for a very durable finish.
Pre-finished floors may be screened and recoated to rejuvenate the finish and revitalize the floor's natural beauty.
Like you, wood is individual and unique.
Each species of wood has its own unique characteristics. Color is determined by what part of the tree the wood originally comes from.
The grain pattern is determined by the species and how the wood is cut.
Natural variations in the color and grain are normal and to be expected.
Similar to natural stone, these variations create the beautiful and unique look of a wood floor. They make your floor close to one of a kind.
Hardwood moves. It's natural and typical.
Wood floors will expand and contract due to moisture and temperature changes, causing hairline cracks, slight height variations or both.
Hardwood does not expand or contract equally in all directions. This is not considered a defect but a natural result of nature.
So, in dry climates, you may want to consider the use of a whole house humidifier to help minimize shrinkage and hairline cracking.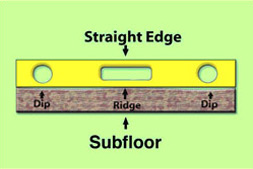 Nothing is perfect, including your subfloor.
No sub-floors are perfectly level. You may also hear hollow sounds where your sub-floor's surface dips and ridges.
This does not affect the integrity or installation of the hardwood. Hollow sounds are normal and are not considered a product or installation defect.
All hardwood floors will fade, darken or change shades over time. Exposure to sunlight will greatly increase this process.
Window treatments are recommended as well as rotating area rugs and furniture regularly to allow floors to age evenly from UV exposure.
Next, understand this about Finish in Place hardwood.
Nature's rich beauty is abundant when displayed through the character of a Finish in Place hardwood floor.
In addition to various wood species and finishes, these hardwood planks are also available in different widths – an elegant addition to any home.
Finish in Place, or unfinished hardwood, is installed in the home and then sanded. The stain and 2-3 coats of urethane finish are then applied. The urethane finish, brushed or mopped on, is known as a "floor finish" not a "furniture finish".
Finish in Place hardwood flooring is not recommended over concrete slabs.
Dust, unfortunately, is a fact of finishing.
Since your floor is being finished in your home, please be aware that your floor will not be "dust free" as it is impossible to create a "dustless" environment.
Some dust will fall onto the freshly applied topcoat of urethane finish.
You may also see sanding marks, small bubbles and brush marks.
However, take heart, Finish in Place floors may be screened and recoated to rejuvenate the finish and revitalize the floor's natural beauty.
Finish in Place hardwood information on color, grain pattern, expansion and contraction, subfloor leveling and floor protection is the same as the information under Pre-finished hardwood, above.
Get on top of the bottom line. Know the entire cost of ownership.
The material "cost per square foot" of your hardwood floor is just one component of the entire project cost. To ensure there are no surprises, and the hardwood you select fits within your overall project budget, be sure to ask us to calculate the total cost of your floor covering project.
Here's a list of potential additional expenses you may incur:
Furniture removal/replacement.
Demolition/disposal of old floor covering. Depending on the existing floor covering, this can be an expensive item; also, be sure to include the cost to dispose of the old floor covering.
Sub-floor preparation. Depending on the condition of the sub-floor, it may require additional work.
Product delivery.
Hardwood installation. Determine the cost per square foot to install it.
Materials required to complete the installation. Your new hardwood floor may require additional materials to install it properly, like adhesives, moisture barriers, stairnosings, baseboards, etc.
In addition to the total project cost, you should also know the cost of annual cleanings to maintain the beauty and life of your new hardwood floor. We can help you answer those questions but be sure to also consult the manufacturer's warranty and care guide for directions on how frequently the hardwood should be cleaned and the cost to clean it.
There's much to consider before buying hardwood flooring.
We hope this section has answered some of your questions and made you a more knowledgeable shopper.
We also hope that this information underlines the fact that you really can't learn enough before buying floor coverings for your home.