Before Buying Laminate
Everything you need to know before purchasing laminate.
Smart shoppers take their time and research their options before making a purchase.
Because your floor is an integral part of your home, we recommend that you learn all you can before buying laminate flooring.
In this section we've laid down what we know and what you should consider before making a laminate buying decision.
Because knowledge about laminate specifics and characteristics, about its traits and subtle differences, can be invaluable.
It's a fact. Choosing the best laminate flooring for your home is really about knowing the right combination of characteristics, aesthetics, performance and budget to best meet the needs of your lifestyle.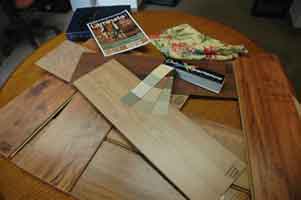 This is the no-fuss, no-problem flooring.
Laminate flooring is a remarkably durable surface, stain resistant, and does not need to be varnished or waxed so it's very easy to maintain.
These are floors for busy households, especially homes with children and high traffic.
Today's laminate styles consist of authentic wood visuals, rich ceramic looks or natural stone designs with different surface textures to beautifully accommodate any room in your home.
Some words of experience on pricing.
When considering laminates, please note that, much like most things in life, you get what you pay for.
High quality laminate flooring will give you far better visuals and performance than "low-price" laminate flooring.
Unique textures, exotic varieties and species, and high pressure manufacturing, are all factors in the cost of laminate flooring.
Also, please review the options and warranties carefully when selecting laminate flooring.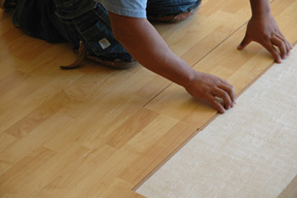 Installation terms, techniques and tips.
Laminate floors are installed using a "floating floor system" in which a padded underlayment sits between the subfloor and the laminate planks or tiles.
The planks or tiles sit directly on the underlayment and are not anchored to the sublfoor on the bottom but rather are connected together in order to form a "one-piece" floating floor.
When walked upon this type of installation can produce a hollow sound, which can be reduced by using a quality underlayment.
In addition, laminate flooring will have a slight give underfoot, making it a more comfortable option than other hard surface products such as ceramic tile or natural stone.
Slight ridging or peaking where planks or tiles are joined together may also occur. This is considered normal and nothing for you to be concerned about.
Some laminate floors lock together without the use of adhesive on the sides of the planks or tiles. These are glueless installations.
Glueless laminate floors have planks or tiles that simply interlock together. These floors make for easy repair if that is ever necessary for you down the road.
For important things you should consider about laminate colors, moldings and transitional pieces, please see the Laminate Choices section.
Get on top of the bottom line. Know the entire cost of ownership.
The material "cost per square foot" of your laminate flooring is just one component of the entire project cost.
To ensure there are no surprises, and the laminate you select fits within your overall project budget, be sure to ask us to calculate the total cost of your floor covering project. Here's a list of potential additional expenses you may incur:
Furniture removal/replacement.
Demolition/disposal of old floor covering. Depending on the existing floor covering, this can be an expensive item; also, be sure to include the cost to dispose of the old floor covering.
Sub-floor preparation. Depending on the condition of the sub-floor, it may require additional work.
Product delivery.
Laminate installation. Determine the cost per square foot to install it.
Materials required to complete the installation. Your new laminate floor may require additional materials to install it properly.
Be sure to also consult the manufacturer's warranty and care guide for directions on how frequently the laminate should be cleaned and the cost to clean it.
There's much to consider before buying laminate flooring.
We hope this section has answered some of your questions and made you a more knowledgeable shopper.