Before Your Hardwood Flooring Arrives
A guide to being prepared for your hardwood installation.
Owning a home is all about being prepared.
Whether it's your best friends coming over for dinner or the arrival of distant relatives, you prepare your home for their visit.
The arrival of your new hardwood flooring and our installers are no exceptions.
Knowing what to expect and being prepared will also be a lot less stressful on you, your family and your home.
Our first advice is a recommendation.
Hardwood flooring is a significant investment in your home.
Installing hardwood flooring is hard, exacting -- detailed.
We strongly recommend that you have it done by our seasoned professionals. They've been "visiting" homes all around here for years.
That way you can be assured of a beautiful, efficient and correct installation.
However, while installing hardwood flooring is a skill that is developed through years of experience, your understanding of the basics of installation will increase your knowledge of the process and enhance your confidence in the professionals working in your home.
So let's cover some of the basics.
There are four methods of installing hardwood flooring.
1. Glue Down: this method is all about adhesives.
The recommended adhesive is spread on with the proper sized trowel to adhere the wood flooring to the sub-floor.
You should know that engineered wood floors and parquets can be glued down. Solid strip floors and plank floors can only be nailed or stapled.
2. Nail Down: today's solid method.
This process is typically used with the 3/4" solid products; however there are adapters available for thinner flooring sizes as well.
2" nailing cleats are used with a wood flooring nailer and mallet to attach the flooring to the subfloor.
Please be aware that Solid Strip floors or Plank floors can only be installed on wooden subfloors on grade or above grade.
3. Staple Down: pneumatics at work.
With this method 1-1/2 to 2 inch staples are used versus nailing cleats to attach the wood flooring to the subfloor.
A pneumatic gun is used to drive the staple into the wood flooring and subfloor. Not all wood flooring manufacturers recommend the same staple gun so using our professional installers will insure that the right staple gun and right size staples are utilized.
4. Floating: padding and glue partner here.
With the floating installation method the floor is not mechanically fastened to any part of the subfloor.
A thin pad is placed between the wood flooring and the subfloor. Then, depending on the product and manufacturer, wood glue is applied in the tongue and groove of each plank to hold the planks together.
The padding has its advantages: it protects against moisture, reduces noise transmission, is softer under foot, and provides for some additional "R" value.
Some engineered floors and all Longstrip floors can be floated. This is a very fast, easy and clean method of installing your floor.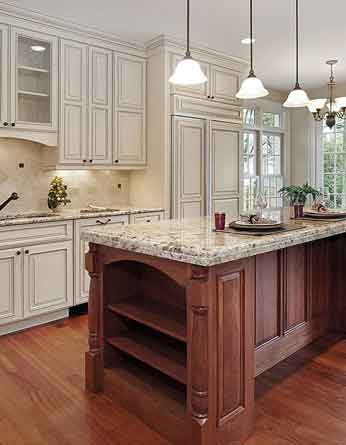 What to know and do before installation day
Relocate your furniture.
Remove all furniture and other objects and materials from the areas to be floored. Before moving, you'll also need to empty the contents of china cabinets, closets and the like.
What's to be done with your present floor covering?
Please consider how your old floor covering will be taken up and disposed of. This can be a time consuming and messy task. We will be happy to discuss removal options with you.
If you prefer to remove your present floor covering yourself, do it at least one day prior to installation to allow for cleanup and floor preparation. If removing old carpet, please leave tack strips in place and pull the staples out of the floor from the original pad.
Now turn your attention to the trim.
You should know that, in many cases, moldings and baseboards need to be removed for hardwood installation. Our installers will do this for an additional charge but will not be responsible for damage or breakage due to dry or brittle wood.
Painted baseboards, woodwork and paint may need retouching after the installation is complete. If necessary, this is your responsibility.
Get expert council on your sub flooring.
Your existing sub floor may need to be prepared to receive the hardwood, or a new sub floor may be required. This is a job best left to the professionals and, again, we can help you with these decisions.
Include a door plan in your preparation.
When hardwood is installed, there's always the possibility that the doors, especially closet doors, basement and bedroom doors, may not clear the new floor and swing free.
Our installers may remove doors in order to install the hardwood and re-hang them for an additional cost. If there is a clearance issue you may want to arrange for a qualified carpenter to shave or cut down your door(s) after the installation of your new hardwood floor.
Don't let clean-up be a toss-up.
Installing new hardwood flooring will produce waste. These materials will be collected and disposed of by our installers at an additional cost.
What to know and do during installation day
On installation day be home and handy.
Be prepared to be at home the day of installation and be available in case our installation crew has questions. Your presence will insure that the correct hardwood is installed in the right areas. Because it is difficult to estimate the length and circumstances of each job, we may not be able to give you an exact time of arrival but we will provide a time frame.
Your family is our concern.
Our installers will use a variety of tools and techniques that can make the work area hazardous. Please make sure that your children and pets are kept out of the work area on installation day.
Follow through with a walk-thru.
We recommend that, prior to the completion of the installation; you walk thru the job with our installation team. This will give you the opportunity to ask questions and be clear on any final details.
What to know and do after installation day
Clear the air.
If you are sensitive to dust and odors, good ventilation should be established for 48 to 72 hours after installation.
Being prepared is the result of being informed.
We want you to be as well prepared as possible for the installation of your new hardwood floor. To that end we've assembled the most knowledgeable sales people and the most experienced installers to provide you with solid information, reliable resources and proven solutions.
We hope that the information we've featured here leads you to a better understanding of how to prepare for installation day.