Before Buying Ceramic Tile
Everything you need to know about ceramic tile before you buy.
Smart shoppers take their time and collect all the facts before making a decision. Especially when it comes to the finishes you put in your home.
Buying floor covering isn't always a straight forward process which is why our advice is to learn all you can before you buy ceramic tile.
Choosing the best ceramic tile for your home is really about knowing the right combination of characteristics, aesthetics, performance and budget to best meet the needs of your lifestyle.
Our goal here is to help educate you before your ceramic tile floor is laid down -- and long before you lay down your money.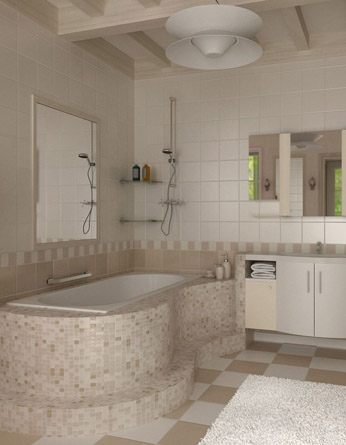 First, put the accent on accents.
The beauty of ceramic tile is the flexibility you have with design options, especially through the use of the accent pieces: trim work and decorative tiles.
If you're interested in applying trim work and decorative tiles you should know that there is a definite step-by-step procedure.
The correct order of this process is to first identify the room and its application, select the type of tile, then its color and shade, and then its texture and size.
Finally, a layout pattern is designed, the trim and decorative patterns are determined, and the grout color and type are chosen.
Adhering to this process will ensure a smooth installation without any missing elements.
To help you insure a smooth understanding of floor tile trim terminology, allow us to cover a few definitions.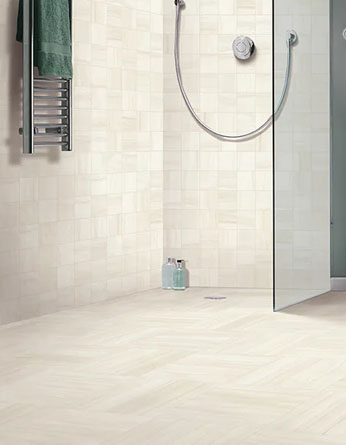 Floor Tile Trims
Bullnose. It has one rounded finished edge on the tile to give a nice finishing touch. Sometimes it is also used as a substitute for cove base.
Corner Bullnose. It has two rounded finished edges on the tile to be used to complete a corner.
Sanitary Cove Base. It has a rounded finished top like a bullnose to cover up the body of the tile.
Understand this about color, texture and shading.
Many of today's popular styles of ceramic tile are designed to look and feel like natural stone, emulating their rugged surface and color variations.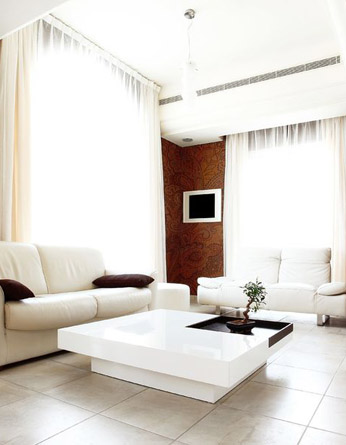 It's important that you understand these variations when designing with ceramic tile, so pay special attention to our story here.
These tiles are intended to show color and texture variations, just like natural stone. Since the composition of the tile's glaze also varies, different tile styles will also exhibit different gloss levels.
You should also be aware that solid color tiles provide a consistent look, however shade variation is inherent in all fired ceramic products and certain tiles will show greater variation within their dye lots.
Shade variation is usually listed on the back label of each sample with a low, moderate, high or random rating. Here, to help you, are the definitions:
Low (V1). Consistent shade and texture
Moderate (V2). Moderate shade and texture variation
High (V3). High shade and texture variation
Random (V4). Very high shade and texture variation
The color of the body of the tile is determined by the color of the clay used by the manufacturer that is available in their geographic region.
Look at the body of the tile to see if the color is red or white. The quality of the tile is more related to the quality of the manufacturer, not the color of the body.
Color variations will also be present between manufacturers' samples of the same color and throughout installed countertops, wall tile or ceramic floors.
Color consistency is something you should understand and carefully consider when selecting ceramic tile.
Our sales associate will be happy to review with you what to expect from different ceramic tiles.
Here are the basics on moisture absorption and tile density.
As the composition of glaze varies, different styles of tile will exhibit different gloss levels and surface textures. This is important to note when choosing your ceramic tile flooring.
For example, in areas that are used while wet, such as your shower or bathroom floor, they should have low moisture absorption and good slip resistance.
Moisture Absorption means that, as the density of the tile increases, the amount of moisture that tile can absorb becomes less.
Tile Density means that, as the weight or the density of the tile increases, it becomes a stronger tile.
Tile density and moisture absorption have an indirect relationship to each other. What this means is that as the density of the tile increases the moisture absorption rate becomes less.
Tile density and moisture absorption is important for you to understand when selecting tile for different applications. Here is some information to help in your decision making process.
Non-Vitreous Tiles are tiles that absorb 7% or more moisture. They are suited for indoor use only.
Semi-Vitreous Tiles are tiles that absorb from 3% to 7% moisture. They are applicable for indoor use only.
Vitreous Tiles are tiles that absorb less that 3% moisture. They are referred to as frost resistant tiles but cannot be used in exterior areas where freeze- thaw conditions could cause tile cracking.
Impervious Tiles are tiles that have less than .5% moisture absorption. These tiles are frost proof and can be used in exterior areas or on the outside of building facades. You can use these where winter is for real.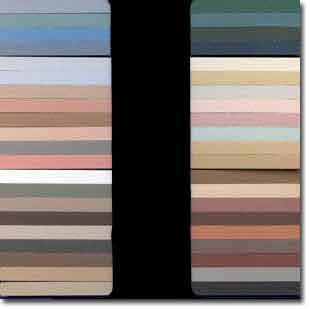 And now, the ins and outs of grout.
Grout is typically mixed on site, but slight color variations can occur within different areas of the same installation with the same grout color, and can vary from the manufacturer's sample you saw in our store.
This can be attributed to variations in temperature and humidity at the time of grouting and it's just a fact of life.
It is also common to see grout variations when comparing the grout color in a tile floor and the same grout color on the tile countertop or wall.
When choosing a grout color you can select a color that blends in with the overall color of the tile to minimize the appearance of the grout.
Or you can select a grout color that is lighter or darker than the tile.
If the tile is installed in a high traffic area then you may want to select a darker grout.
Exact layouts, type of grout and grout joints widths are determined by the tile setter at the time of installation and are governed by the actual size and shape of the tile, and the exact dimensions of the areas to be covered.
Once the tile has been laid and grouted, it is your responsibility to maintain all caulked areas to guard against water damage. Grout may also darken over time in areas with heavy water use.
Also, changes of season can cause surfaces adjoining the tile to expand and contract, causing the grout to crack and separate.
Be aware of these truths about subfloors.
No subfloors are perfectly level. So you may hear hollow sounds where your subfloor's surface dips and ridges.
Be assured that this does not affect the integrity or installation of the ceramic tile. Hollow sounds are normal and are not considered a product or installation defect.
Get on top of the bottom line. Know the entire cost of ownership.
The material "cost per square foot" of your ceramic tile floor is just one component of the entire project cost. To ensure there are no surprises, and the tile you select fits within your overall project budget, be sure to ask us to calculate the total cost of your floor covering project. Here's a list of potential additional expenses you may incur:
Furniture removal/replacement.
Demolition/disposal of old floor covering. Depending on the existing floor covering, this can be an expensive item; also, be sure to include the cost to dispose of the old floor covering.
Subfloor preparation. Depending on the condition of the sub-floor, it may require additional work.
Product delivery.
Ceramic tile installation. Determine the cost per square foot to install it.
Materials required to complete the installation. Your new tile floor may require additional materials, such as moldings, to install it properly.
Also, consult the manufacturer's warranty and care guide for directions on how and how often your tile flooring should be cleaned.
There's much to consider before buying ceramic tile flooring.
We hope this section has answered some of your questions and has underlined the fact that you really can't learn enough before buying floor coverings for your home.