Welcome to Laminate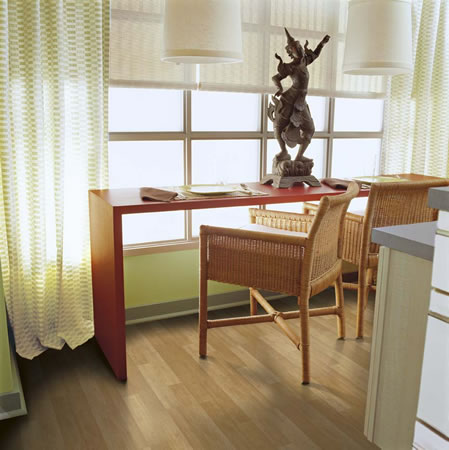 Welcome home, and to the world of laminate.
Home holds a magical place in our hearts. "Be it ever so humble, there's no place like home," said playwright and actor John Howard Payne. From humble to palatial humankind's love of home transcends cost, time and place.
Here on our website and in our floor covering store, we celebrate the home.
Because home is where dreams are shared, families are created, relationships mature – where life happens.
That's why our goal is to provide you with quality laminate flooring products that offer a positive and lasting effect on your home. Products that beautify your home, enhance the décor, meet your specific comfort, performance and budget needs, are easy to care for, and stand the test of time.
To help achieve our goal, we've created a library of laminate flooring knowledge, style choices, shopping tips, buying considerations and upkeep dos and don'ts.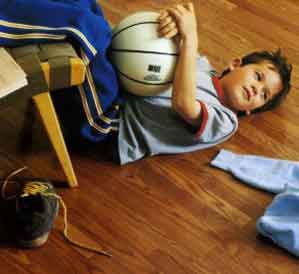 There are many good reasons why laminate flooring is a popular choice in today's homes.
Laminate is a manufactured product that simulates the look of hardwood, ceramic tile, natural stone and many other types of flooring.
Now, in the past, laminate floors have been easy to spot, but today's technology allows manufacturers to create realistic visuals and textures for an elegant and quality floor.
We think you'll be amazed – maybe surprised -- at how faithfully and beautifully laminate flooring resembles other premium flooring.
In fact, many of today's laminate styles consist of extremely authentic wood or natural stone visuals to accommodate any room in your home.
Laminate is well suited to those shoppers who want the look and feel of real hardwood or stone but without the cost or maintenance that can be associated with natural products.
It's a fact. Laminate flooring offers a significant value in the world of hard surface flooring options.
So, laminate seems to be popular among buyers who are looking for a beautiful, durable, yet cost-effective flooring solution for their home.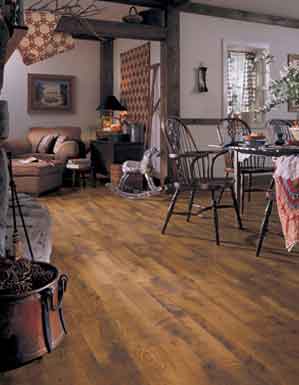 And laminate floors function well in any space with their many different styles and colors.
You can choose from natural colors and dark wood grains as well as warm or cool color tones to compliment any room décor in your home.
And if the "plank" look interests you, many hardwood plank designs are offered in laminate, including rare, exotic wood species.
Laminate stone and tile patterns will give you the elegant look of tile, but without the concerns of grout cleaning or cracking tile. Something you might want to consider.
And if yours is a busy household or a home with children, a durable, low maintenance product like laminate flooring is a great choice for your active lifestyle.
Because laminate flooring is stain resistant, it doesn't t need to be varnished or waxed.
Laminate floors are also less likely to fade in direct sunlight, unlike the graceful aging hardwood floors.
And don't worry if you feel a little unfamiliar with this product. Laminate floors are relatively new to this country, but have been used in Europe for more than 25 years.
Why Europe you ask? Since laminate flooring can be installed over many types of existing floors, that has made it a natural for old European buildings.
But more and more Americans are becoming familiar with laminate flooring because they have been aware of laminate countertops for years.
By using the countertop technology and adding considerably more resin to the wear layer, some laminate floor manufacturers boast that their laminate floors are now 10 to 20 times harder than laminate countertops.
Since this resin filled wear layer is so dense, it becomes extremely difficult to stain or scratch.
And here's something you might find interesting. Laminate floors are never secured directly to the subfloor, instead they are floated over the subfloor.
This allows laminate flooring to be used over a wide variety of subfloors, including wooden subfloors, existing floors and even concrete slabs.
Which may explain why, today, laminate flooring has become one of the best selling floor coverings in the United States.
In conclusion, we want you to be aware that laminate floors offer many benefits to you and your home, including:
Exceptional durability
Easy to clean surface
Superior stain resistance
Superior fade resistance
Install in/on all grade levels, even below grade
Install over many different types of subfloors
Great impact and indentation resistance
Exceptional realism at affordable costs
Easy to replace later on, if desired
If laminate flooring may be a possibility for your home, we invite you to learn all you need to know in the other laminate sections here, and at our store.